It's 7.30 on a chilly Monday night and I'm standing in a community centre hall in Melbourne. A Britney Spears song is blaring from the speakers and a dozen women (and one man) are dotted around the room.
And then, in walks Clare Noisette. With neon face paint adorning her forehead and leopard-print leggings, she's a veritable explosion of colour and energy. She turns the lights off, cranks up the music even louder, and gets the disco lights going. We spread ourselves out – a glowstick clutched in each hand – and get ready to move.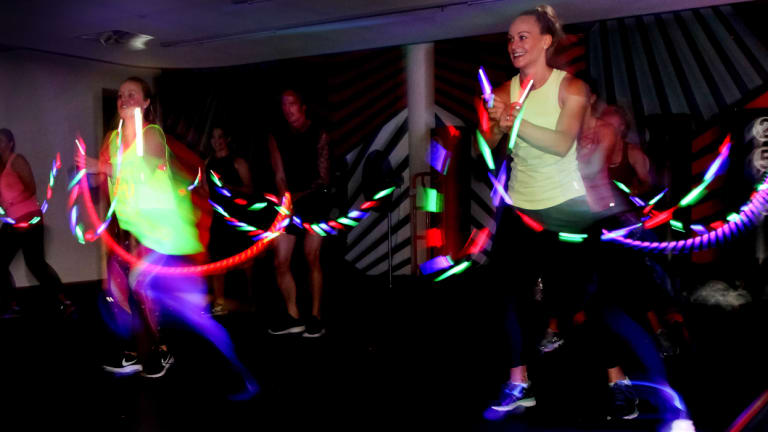 Participants in a Clubbercise class.
We're not here to dance, per se. Nor are we here for a traditional aerobics class. Rather, we have gathered together to partake in the burgeoning trend known as Clubbercise – where fitness meets clubbing.
It feels like an aerobics class as Noisette bounces about on stage and we follow, doing squats, jumping jacks and combat moves. But there's also a definite dance element to our workout and the music – mainly 1990s tunes with a few modern hits thrown in – is a big part of the experience.
Londoner Claire Burlison, a 41-yearold with a background in graphic design and marketing, came up with the idea of Clubbercise classes in 2012. She and her friends were lamenting how "grown-up responsibilities" like serious jobs and families had replaced their carefree nightclubbing days.
"Then I said to my friends, 'Isn't it a shame there isn't a dance fitness class that plays the kind of music you hear on a night out?' " Her friends agreed – and the very first Clubbercise class took place in London in June 2013. They've spread like wildfire since.
Burlison is blown away by how popular they've become. "A lot of people feel self-conscious in a brightly lit studio," she says. "That's not an issue at Clubbercise, because we darken the room."
Such classes are so popul ar in the UK that there are now around 2200 Clubbercise instructors there. The trend is starting to take off on our shores, too. The first class opened here in mid-2017 and there are now 40 classes around Australia. They're proving popular for all ages, says Noisette, as the workout can be either low or high impact. They also tap into our universal desire to find an exercise that doesn't feel like, well, exercise.
"That's the magic of Clubbercise," Noisette says. "You are working incredibly hard, so you're knackered when you leave … but you enjoy it because it's exhilarating."
While the music is infectious, I must admit it takes me some time to get into the class. I'm clunky and unco-ordinated at first, and am reminded of why I stopped attending aerobics. But my self-consciousness lifts and I begin to lose myself in the atmosphere, which captures the feel of a club minus the aching feet and writhing bodies.
The beats becomes more intense and soon we're pounding it out to the Prodigy's Firestarter, punching our arms in front of us like kick-boxers. Then the music becomes slower and the movements less intense and I realise we're at the tail end of the class. We stretch, but not in the traditional sense. We make long, slow arcs with our arms, glowsticks flashing overhead.
By the time the class finishes, a sense of camaraderie has seeped into the room. Though we stood separately before the class, we now smile at each other, sweaty and pink-cheeked, as we guzzle down water.
"Music and dance naturally bring people together," Burlison says. "You can't beat the feeling of euphoria when a big tune comes on and everyone's moving as one. It's such a buzz."
This article appears in Sunday Life magazine within the Sun-Herald and Sunday Age on sale October 7.
Source: Read Full Article