Squats are great. So are lunges. Try them together with this one-two power move from trainer Eric Leija (a.k.a. Primal Swoledier), and you'll be shocked how hard both become.
While the first exercise of the series, a lunge twist, will set the table, the big gains will come from number two, a single-kettlebell rack squat to reverse lunge. The latter movement sounds simple, and it is: Set up with a kettlebell in a front rack position, perform one squat, and then step back into a reverse lunge.
In practice, however, both squats and lunges become even more challenging when you use offset loads. You'll find yourself huffing and puffing under even minimal weight, battling to reach depth, with your core working overtime.
Leija performs the move as one-half of a killer superset. But we recommend getting a lot of practice with the kettlebell rack squat to reverse lunge before you even think about pairing it with another move. And, before that, make sure that you aren't making these common KB front rack mistakes. Owning this position, rather than just hanging out, is critical to getting the most from the single-kettlebell rack squat to reverse lunge.
Perform 5 reps, switch sides, and repeat for a total of 5 sets with 30 seconds of rest between sets.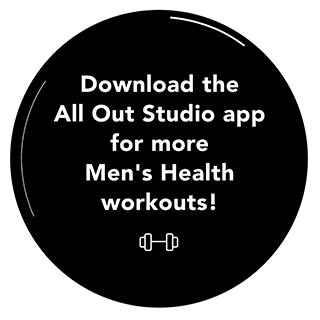 Hearst
Want more kettlebell workouts from Leija? Check out his Men's Health Kettlehell program (now available on our All Out Studio app), which is designed to burn fat and build muscle with just one kettlebell.
Source: Read Full Article