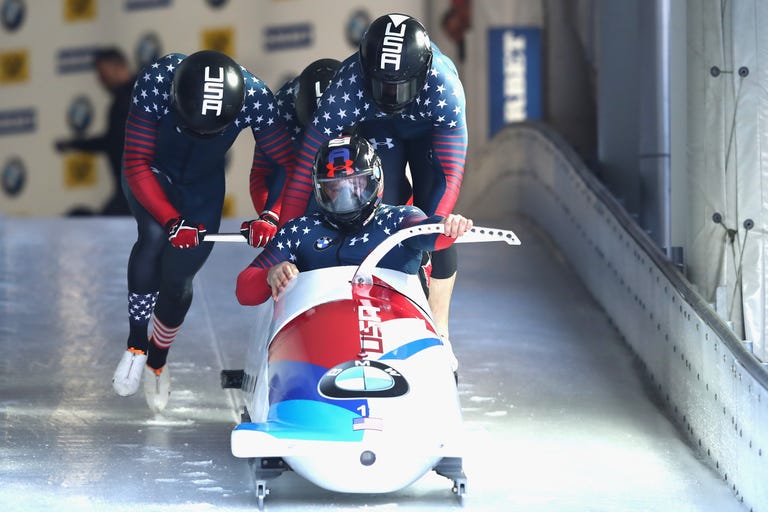 If you had one shot, could you prove that you can compete with the best athletes in the world?
Wannabe athletes across the US flocked to 24 Hour Fitness gyms last weekend hoping to answer that question as they tried out for a chance to make the US Olympic team. The hopefuls tested sprints, pullups, and and the vertical jump to be selected as candidates for a special U.S. Olympic Committee (USOC) initiative, which aims to find promising athletes across the nation to train them for super-specialized sports like the bobsled.
The whole concept has a rags-to-riches, stranger than fiction vibe — which is likely why the first round of the initiative was the subject of a reality show, Scouting Camp – The Next Olympic Hopeful, on NBC.
Going For Gold
Josh Williamson represents where those athletes can become in less than one year.
As one of nearly 3,000 applicants in last year's open-call tryout, the 21-year-old Lake Mary, Florida product was not only invited to the U.S. Olympic Training Center in Colorado Springs, but was crowned The Next Olympic Hopeful winner for bobsled. (Altogether, the show named eight winners: a male and female in four sports, including bobsled, skeleton, track cycling, and rugby).
Still can't believe this is real. Thank you to everyone for the kind words. This is only the beginning! #JMstrong #ForYouBigEk #nextolympichopeful
A post shared by Josh Williamson (@josh_williamson) on
We caught up with Williamson while he was busy training at the U.S. Olympic Training Site at East Tennessee State University, as he strives to make the national bobsled team.
"I was absolutely shocked," Williamson told Menshealth.com about winning the Next Olympic Hopeful competition. "The show changed my life. I have never dreamed of having the opportunity to do this or to have this quick or good of a rookie year. I knew I was a good athlete, but I didn't know where I could put that. I didn't know what I was built for."
Not bad for a former lacrosse player who had previously never tried bobsledding. Williamson was still recovering from a posterior labrum repair surgery on his left shoulder when he won the show in August 2017.
Since then, the 6'2″, 225 lb. Williamson has won five medals, including two golds, in international bobsled competitions.
Got a gold medal in my first international competition today! Looking forward to working hard and learning as much as I can before our next race in Calgary. Enjoying every second of this journey!
A post shared by Josh Williamson (@josh_williamson) on
His ultimate goal? Representing Team USA in the next Winter Olympics, which will take place in Beijing in 2022.
"I'm going to work [and] try to make the national team as many times as I can these next four years," Williamson said, "and really set my sights on Beijing in 2022."
Williamson walked us through the exercises he uses to build as much pushing power and force possible for his sport, and how those moves directly correlate to the icy track. Try out some of these exercises in the gym if you want to jump on a sled, or if you just want to have legs that could handle the challenge. Maybe next year you can put your work to the test and try out for the squad yourself.
The Workout
Straight Line Sprints
5 reps of 50 meters
"Strength and growth come only through continuous effort and struggle."
A post shared by Josh Williamson (@josh_williamson) on
Whether you're assuming the role of a driver or brakeman, the beginning of any two-man bobsled competition starts out with an explosive sprint.
"Once we get [the bobsled] moving… and the ice turns into a little bit of a downhill, it turns into a sprint."
That's precisely why Williamson sprints up to five reps of 50 meters three times a week — Mondays, Wednesdays and Fridays — to build up that explosiveness that correlates with the start of every single bobsled run. When you try the sprints yourself, make sure to rest and recover for at least two minutes between each, so you can run as fast as you can for the next one.
Back Squats
3 sets of 8 reps
Bodies feeling a little sluggish after an off-week and some travel. Glad to finally get back under a bar. 170k/375# for 5
A post shared by Josh Williamson (@josh_williamson) on
Weighted back squats give Williamson the leg strength he needs while pushing the bobsled down the track. But they also work wonders for his core, he says.
"A lot of people consider squatting as mostly a lower-body exercise, which it predominantly is, but it utilizes a lot of abs and back to stay upright as the weight gets heavier. For bobsled, it's very similar," Williamson explains. "When we're hitting a sled, obviously we're running with our legs — but running and pushing is a full-body movement. We have to be very rigid up top, we have to have our core engaged the whole time, so with the back squat, you're almost training every muscle that we would need to push in the same lift. It's a staple."
Williamson additionally claims that back squats help strengthen his abs enough to keep that crouched position once he and his teammate load up into the bobsled, and he's right; complex, multi-joint exercises like squats are great for your core. Williamson says he'll hit back squats three sets of eight reps while training, but will taper those reps off as the competition draws near to keep his body feeling fresh.
Weighted-Sled Push
3 sets for 20 meters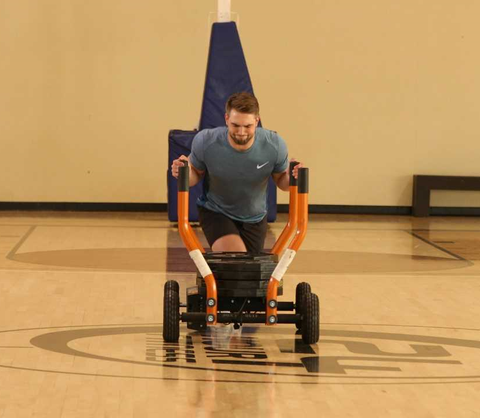 24 Hour Fitness
Obviously, getting out on an icy track and pushing a bobsled is the best prep for an actual competition. But Williamson calls thrusting a weighted sled "a great way to simulate hitting a heavy bobsled."
Williamson said that he loads up a sled to mirror his body weight (225 pounds) and pushes it as fast as he can three times for 20 meters, with a two-minute break in between each set. He and other bobsledders are careful not to overload the sleds with weight because they're going for timed speed and don't want the training to become a slow grind exercise of attrition — so take that to heart and don't push too much when you give it a shot.
While with training with Team USA in Pyeongchang, South Korea at the 2018 Olympic Winter Games, Williamson even tested his "push mechanics" against an SUV, which was in neutral. Although we strongly advise against you trying this in your driveway … or anywhere for that matter.
Thank you to @elanameyerstaylor for coaching me through push mechanics. Just need to translate this to behind a sled!
A post shared by Josh Williamson (@josh_williamson) on
Static Vertical Jumps
3 explosive jumps
Everyday I wake up with an opportunity to improve. Learning, growing, and slowly pushing forward here at @sportscienceed with @drbraddeweese
A post shared by Josh Williamson (@josh_williamson) on
Explosive movements directly correlate to bobsledding, especially considering the push needed to move the craft at the start of each run. Williamson advised to hone this power with static vertical jumps. Stand perfectly straight, slowly crouch into a squatting position, and then explode up, jumping as high as you can.
"You can use the box as a visual cue, but at the end of the day, we just jump straight up in the air," he said. "It's more of a measurement of how high we get and also how much force we're producing when we're leaving the ground."
To keep your form honest, Williamson recommended draping a thin PVC pipe across the back of your shoulders, so you don't attempt to leverage extra height on your jumps by using your arms and hands. "We're taking the arm swing out of it, so it's strictly a lower-body movement," he said.
Light Sprint, Medicine Ball Routine
Four 50 – 75-meter runs, 30 seconds as many reps as possible (AMRAP) at each medicine ball station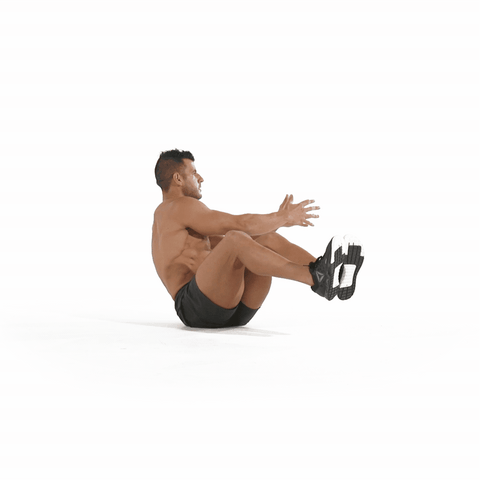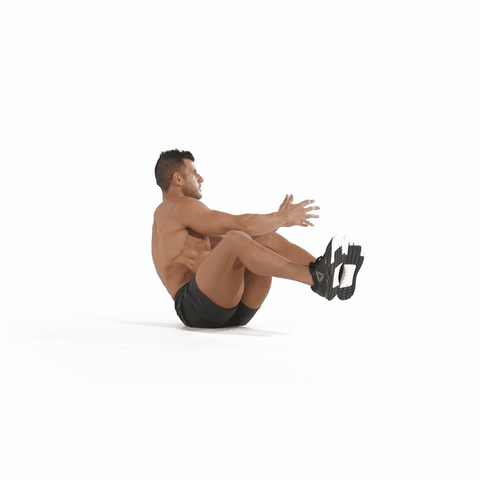 Men's Health
While Mondays, Wednesdays and Fridays serve as Williamson's sprinting and weight-lifting days, Tuesdays, Thursdays and Saturdays are his active recovery days. That doesn't mean he's inactive, though — he has a special workout to make the most of off days.
His rest day routine consists of a light jog for 50 to 75 meters, where a medicine ball station awaits. There, he'll do Russian twists for as many reps as possible for 30 seconds. He'll run another 50 to 75 meters to a second medicine ball station, where he'll do a medicine ball situp toss with a partner for AMRAP in 30 seconds. After that, one more sprint of the same distance followed by another station, where he'll do medicine ball toe touches for AMRAP over 30 seconds. That's three light runs and three medicine ball core exercises, which he says become a real factor when he's scrunched up in the bobsled.
If you try this active rest day workout, add a fourth run and medicine ball exercise of your choice to up the ante. Sounds challenging enough for you?
Source: Read Full Article