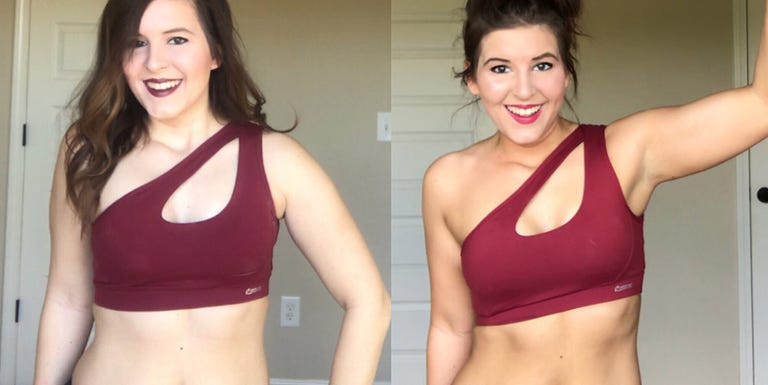 My whole life, good was never good enough. I had zero self esteem, and was always seeking validation from others—while feeling like I was falling short.
Because of this, I viewed sports practice as punishment. I loved being active, but come college, I steered clear of exercise for a long time. At the same time, though, I started to feel a shift in my mood. I'd been previously diagnosed with Crohn's disease and the fatigue, bloating, and nausea really took a toll during college. I found myself withdrawing to my room for long hours to study, avoiding things that would've helped but weren't required of me—like exercise.
Eventually, I decided to get a job on-campus to be more involved in the community. I ended up getting hired as a group fitness instructor at the school gym. Even though I had always hated the person barking orders at the front of a weight room, now I was in charge. And I loved it.
I taught for a few years and enjoyed it, but in 2012, I hit a breaking point with stress. I'd started nursing school, broken off an engagement with the guy I'd been dating for seven years, and my Crohn's was seriously acting up. I was on multiple medications since the stress and poor diet exacerbated my Crohn's problems—to the point where I would have such severe bloating and cramping that I couldn't sleep at night. Something needed to change.
A post shared by Lauren Black (@laurenelizabethblack) on
Whether it was studying on the elliptical, kickboxing out stress, or detoxing with yoga—whatever my body could do to burn off the stress, I did.
Exercise helped fight the fatigue, and I noticed my happiness started coming back. I could focus more on school work and my Crohn's symptoms started to subside. My sister was a personal trainer, so in addition to Youtube videos and at-home workouts, she'd give me routines to do. I started craving that rush of endorphins. I felt my confidence begin to grow. My friends started calling me a "ray of sunshine."
Fitness took front row in my life for the next few years, but my Crohn's was still present. The disease doesn't follow the rules of an otherwise healthy diet, which can be confusing and frustrating. Salads send me into a flare up with nausea and severe pain. My body cannot digest lettuce or cruciferous vegetables unless they are cooked, which means it was so easy to just shift to chicken fingers and potatoes, which I can digest just fine.
It wasn't until I became a nurse and really immersed in the health world that I learned about how these things played into Crohn's and into my overall wellbeing. I realized that while my digestion may be happier with chicken fingers, this food still makes me sluggish (like all processed food does). It is such a delicate balance of what I can and cannot eat, but after cleaning up my diet and finding solid substitutes for things that I crave, I started to feel better.
A post shared by Lauren Black (@laurenelizabethblack) on
I'm a full-time night shift ER/trauma nurse, but I try to work out 30 to 45 minutes, six days a week with lots of bodyweight work. I love working legs, doing burpees, and sweating it out with HIIT.
My job is very physically demanding. We do chest compressions, lift patients, push stretchers, and walk countless miles each shift, and I love that fitness has given me the endurance to do it all with ease.
A post shared by Lauren Black (@laurenelizabethblack) on
I follow the 80/20 rule because if I don't let myself have treats, I'll binge and then feel terrible. I allow myself treats at least once a week but am mindful of what they are—for both health and digestion. My go-tos for that 20 percent are frozen yogurt, fruit smoothies, a mixed drink without added sugar, or an organic, grass-fed burger. I love sweets, so I've learned to make this amazing cookie dough using protein powder, almond butter, and honey.
Otherwise, my typical breakfast is eggs with sweet potato tots; for lunch and dinner, I do a fish or grass-fed beef with veggies and starch. My favorite dinner combination is honey-glazed salmon with roasted asparagus and mashed cauliflower with garlic salt.
A post shared by Lauren Black (@laurenelizabethblack) on
People have told me I'm not good enough, strong enough, fast enough, smart enough, but I've just let the naysayers be the fuel to my fire. I've learned to be myself unapologetically.
A post shared by Lauren Black (@laurenelizabethblack) on
But it's up to you to do this for you. Let negativity be the fuel that gets you going. When I've had a long day and feel like giving up, I'll repeat back a naysayer's comment to myself. Then I prove to myself that I am capable.
Follow Lauren's fitness journey @laurenelizabethblack.
Source: Read Full Article