Julie Bates laughs at the way she instinctively responded when the emblem of the Crown bobbed up on an email in her inbox a few weeks ago.
"I thought 'Oh my God, what have I done now?'" It's been 23 years since the sex industry was decriminalised in NSW, and still,  sometimes, "the only thing you expect first thing in the morning is a knock on the door from the cops … that kind of trauma and instinct still sits with you, no matter how many years ago it was."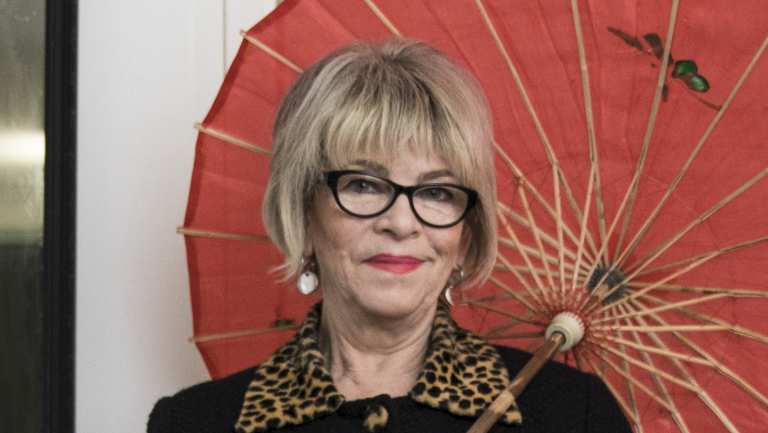 Julie Bates has been awarded an Order of Australia for her advocacy for sex workers and other marginalised Australians.
The email, however, bore good news: the 68-year old becomes an officer of the Order of Australia (AO) in the Queen's Birthday awards, recognising the work she's done over decades to champion the rights of sex workers and mobilise the sex industry against the spread of HIV/AIDS.
It's hard now to remember the sheer terror that accompanied what seemed to be a looming HIV/AIDS epidemic in the early to mid-1980s.
Ms Bates was then a single mother and sex worker in her early 30s,  based in East Sydney. She became keenly aware of the threat. "We needed representation and later our lives depended on it," she told Fairfax.
At a drop-in centre in Kings Cross she saw a notice about an embryonic research project on sex workers and HIV/AIDS, and within three days she and others were writing a grant application. That led to funding for a revived Australian Prostitutes Collective, which later morphed into the pioneering Sex Workers Outreach Project ( SWOP) – a model of peer education in combating HIV/AIDS transmission which was so successful that she became a consultant to the World Health Organisation. She was also active in organisations like NUAA, the NSW Users and AIDS Association, which helped develop harm minimisation strategies for injecting drug users.
One of her first successes was to convince the owner of Sydney's largest brothel, the Nevada, that he'd go bust unless he insisted on condom use.
"I told him, 'I can help you have the boomingest business in town. But you have to be brave.'" She got him a double-page spread in that weekend's paper, and over the next four years condom use in the city's brothels climbed from just over 10 per cent to  an estimated 90 per cent.
Julie Bates, right, and Roberta Perkins of the Australian Prostitutes Collective, 1986.
The head of the Sexual Health Program at the Kirby Institute, Professor Basil Donovan, says thousands owe their lives to such work. "But for Julie and people like her, we could have had a much worse HIV epidemic," he says. "It took huge courage, you have no idea."
Ms Bates insists, "I've done no more than anybody else who has devoted their lives to the treatment and stopping the spread of this disease." She makes special mention of the late Professor David Cooper, who posthumously receives a Companion of the Order of Australia (AC) for his ground-breaking medical work in the field.
In all likelihood she is the first Australian with a background in sex work to get an AO. She laughs. "Well, the only one who has acknowledged their sex work. Who knows?" She is thrilled that her friend, New Zealand sex work activist Catherine Healy, now Dame Catherine, was  similarly honoured in that country last week.
Julie Bates and Professor Basil Donovan in 2007.
Despite turning 70 next year, Ms Bates shows no signs of slowing down. She will use the AO to open yet more doors. "I'm going to milk it for all it's worth," she says. Having won decriminalisation, "the next big fight is to win anti-discrimination protection, which we don't have yet". Then there are other states outside NSW to tackle, where there is a "mishmash of criminalisation, prohibition and licensing".
In the guise of her alter ego, "Darlo Debby", she is off to Amsterdam next month as part of a sex workers' performance art collective, dubbed "Debby Doesn't Do it for Free" which will hang out a shingle at an international AIDS conference.
She picks up a red umbrella, lying furled in a corner. "This is the symbol of sex worker rights," she says. "Umbrellas protect against inclement weather – well, this is to protect us against inclement attitudes in society."
Source: Read Full Article