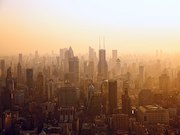 FRIDAY, June 29, 2018 — Add another health harm to air pollution: New research suggests it might increase the risk of diabetes, even at levels considered safe.
Cutting air pollution could reduce diabetes rates in countries with both higher and lower levels of air pollution, the researchers said.
"Our research shows a significant link between air pollution and diabetes globally," said study senior author Dr. Ziyad Al-Aly. He's an assistant professor of medicine at Washington University in St. Louis.
"We found an increased risk, even at low levels of air pollution currently considered safe by the U.S. Environmental Protection Agency and the World Health Organization," Al Aly said in a university news release.
"This is important because many industry lobbying groups argue that current levels are too stringent and should be relaxed. Evidence shows that current levels are still not sufficiently safe and need to be tightened," he added.
But the findings did not prove that air pollution causes diabetes.
In the study, the researchers estimated that air pollution contributed to 3.2 million new diabetes cases worldwide in 2016, or about 14 percent of all new cases that year. They also estimated that 8.2 million years of healthy life were lost worldwide in 2016 due to pollution-linked diabetes.
In the United States, air pollution is linked with 150,000 new cases of diabetes a year and 350,000 years of healthy life lost each year, according to the report.
Diabetes affects more than 420 million people worldwide and 30 million Americans. The main causes of type 2 diabetes include an unhealthy diet, inactivity and obesity, but this study highlights the significance of outdoor air pollution.
It's believed that air pollution reduces insulin production and triggers inflammation, preventing the body from converting blood sugar into energy that the body needs to maintain health, the study authors explained.
The study was published June 29 in The Lancet Planetary Health.
Previous research has linked air pollution with heart disease, stroke, cancer and kidney disease.
More information
The U.S. National Institute of Environmental Health Sciences has more on the health effects of air pollution.
Posted: June 2018
Source: Read Full Article