There's a scene in the movie Three Billboards Outside Ebbing, Missouri where Oscar-winner Frances McDormand plunges a drill into a dentist's hand. It came back to me during a recent visit by my family of four to our very good and conscientious dentist. Handing over $1000 for his efforts – cleaning, checking and oh, a one-minute filling – reminded me of that McDormand moment, except the pain was in my back pocket. No wonder tooth decay is on the rise; visiting the dentist is so bloody expensive.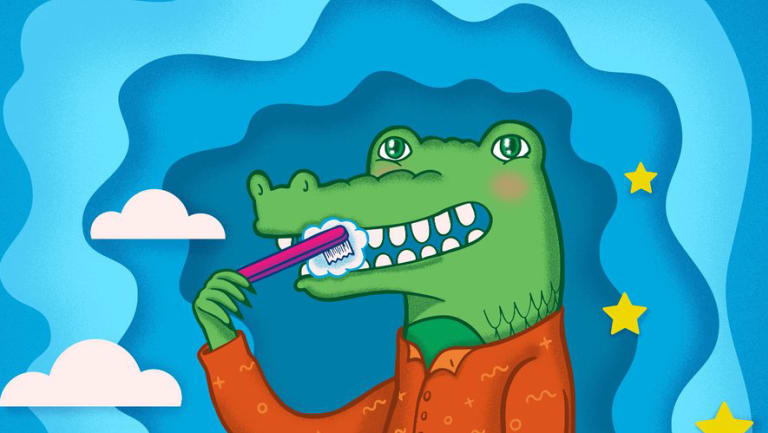 Chompers is a podcast for kids that could change your daily routine.
My pain was exacerbated by the fact the filling was not for an adult but for our nine-year-old daughter. "Worst Mother of the Year" may as well have been branded into my privileged forehead (my husband, on the other hand, experienced no such guilt). The cavity was in a baby tooth and the filling required no anaesthetic, which in a way was a shame – a needle might have been the encouragement needed to take better care of her teeth.
Some hours later, as luck would have it, I read about a podcast that promised to help children brush their teeth for longer, called Chompers. I was sceptical but decided to try it out. The podcast has twice-daily episodes, each four minutes long, which instruct kids how to brush, mixed with fun and interesting trivia about everything from transport and animals to geography.
My six-year-old loves it! And OMG, as she likes to say, she now brushes for four whole minutes, every morning and night, when listening to it.
Sadly, my nine-year-old thinks it naff. But she's competitive, so she's brushing her teeth for just as long as her little sister. In the meantime she's found a podcast she's enjoying: The Unexplainable Disappearance of Mars Patel.
Source: Read Full Article