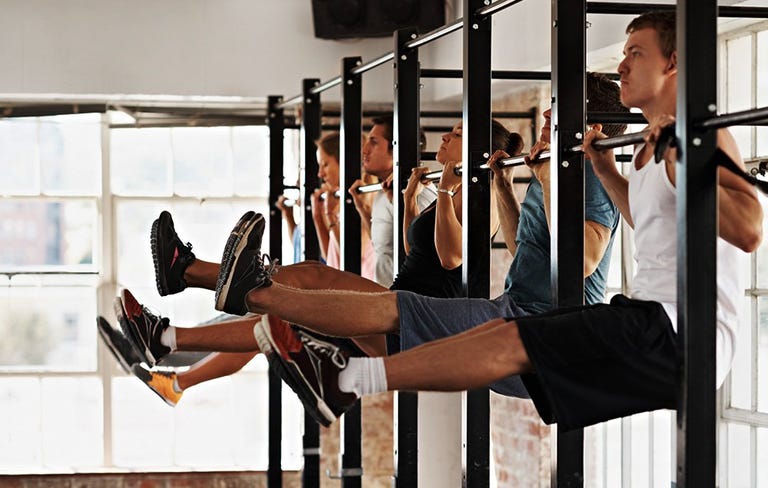 If you're struggling with your CrossFit workouts, you might want to think about ditching your dirty sneakers for a newer, better pair of kicks designed for the rough and tumble life in the box.
This switch-up is especially important if you've been rocking the same sneakers for your WODs that you wear out on a long jog. Many running shoe models have what's called a "drop," which means the heel is raised, putting it at a level higher than your toes (the difference between heel height and toe height varies between models and brands). A fat heel can be great for cushioning your foot during a run — but not so awesome when you're pressing a barbell over your head and planting your heels squarely on the ground.
Shoes that are designed specifically for weightlifting and CrossFit keep that drop to a minimum, preventing you from pitching forward onto your toes during Olympic lifts. Generally speaking, you want a heal-to-toe drop of 4 millimeters or less.
You'll also want to pay attention to the base of the shoe, the sole. A CrossFit shoe's sole should be flexible yet firm, according to San Francisco CrossFit's Christopher Wong. "A firmer sole allows better transfer of energy and stability when squatting, cleaning, deadlifting, and snatching," he told Menshealth.com, adding that the "soft, squishy soles in running shoes will mute an athlete's power" and create an unstable surface.
CrossFit sneakers should also have plenty of room up front. A wide toe box helps you spread your toes and distribute your weight while maintaining proper knee and hip alignment, according to Wong. Your new kicks shouldn't weigh a lot, either, or that 100-box-jump WOD will magnify every extra gram.
Durability should also be a focus, even more than in rugged road running shoes. Extra material on the inner arch helps protect the upper (and your skin) from shredding during abrasive stuff like rope climbs.
Here are five of the best footwear options for your next CrossFit session. If you wear these to the box, your feet will be well-positioned to smash your PRs — and look great while you're doing it.
Nike Free x Metcon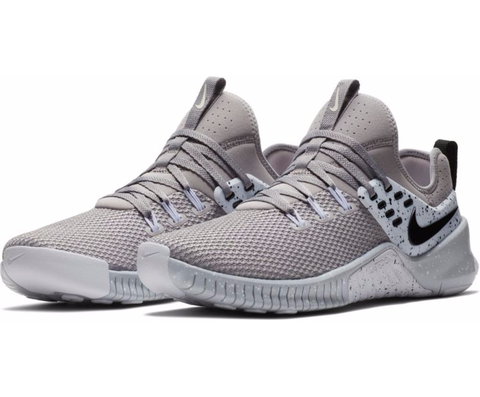 Nike
Nike's Metcon line has long been a favorite in CrossFit boxes everywhere — but the Swoosh stepped up the game by mashing up its stable, sturdy design principles with the more flexible and light Free line, which is focused on running. The result is a versatile trainer that's just as good for your set of thrusters as it is for sprints.
Buy Now
Reebok CrossFit Nano 8 Flexweave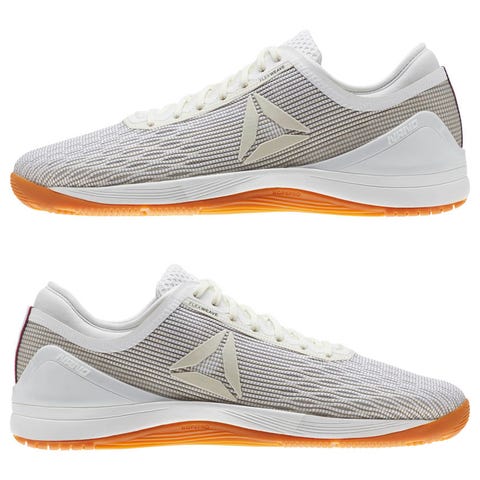 Reebok
The latest iteration of the ever popular Nano, the 8 adds Reebok's new Fleaxweave tech to the shoe's upper for even better mobility during the toughest WODs. The heel has been redesigned for comfort, too, so you'll even want to wear this out of the box.
Buy Now
Inov-8 F-Lite 195 V2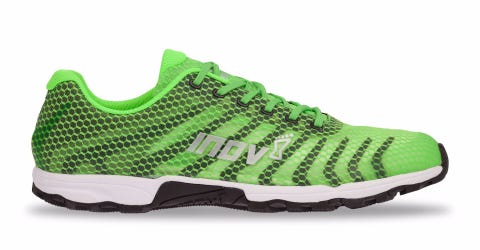 Inov8
Inov-8's update to the 195, which the brand claims to have been one of the first shoes adopted by CrossFitters, uses many of the same principles as its progenitor. The V2 is its own beast, though, with an increased 4mm toe-to-heel drop and redesigned Y-lock heel for heavy lifts. The shoe isn't just stuck to the ground — extra grippy Rope-tec soles will come in handy during rope climbs.
Buy Now
No Bull High Top Trainer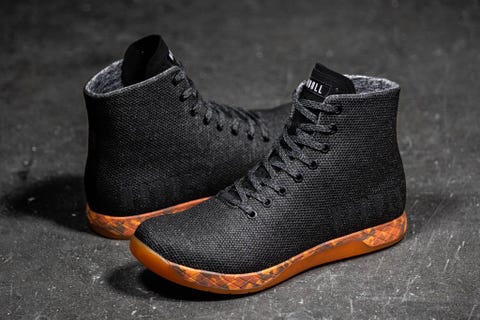 No Bull
If you're sick of the low profile designs offered by other CrossFit shoes, opt for the high top version of No Bull's respected trainers. This low-drop shoe features an upper made of SuperFabric, a durable, abrasion-resistant yet breathable material that gives these kicks a distinctive look (a look that works well outside the box, too).
Buy Now
Asics Conviction X 2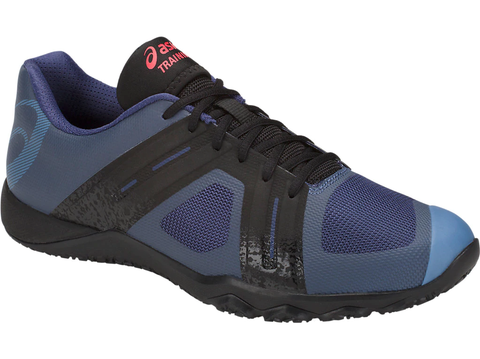 Asics
Asics' second edition of its performance trainer has a seamless upper and flat heel for firm support during heavy lifts and a breathable, perforated sockliner for sweaty feet. Don't worry about tripping on your sloppy knots — the X 2 has a special pocket in the tongue to tuck excess laces away.
Buy Now
Source: Read Full Article