It's almost too easy to come up with excuses to skip the gym: It's too far away, it smells like B.O. and dirty socks, too many people are mirror flexing for Instagram, the meatheads in the weight room are too intimidating… If you're actively looking for a reason to bail on your workout, it doesn't take a super-creative person to come up with one on the spot.
In fact, according to USA Today, research shows that 67 percent of gym memberships go unused—and considering that people pay an average of around $60 a month for those memberships, it's like you're literally throwing money away (does that count as cardio?).
But, with a little more of an upfront investment, you can actually create a workout space in your home—one that doesn't stink and isn't crowded. These tools are all you need for an effective home gym that's so uniquely tailored to your own needs that you'll be hard-pressed to find new excuses to flake on your daily workout.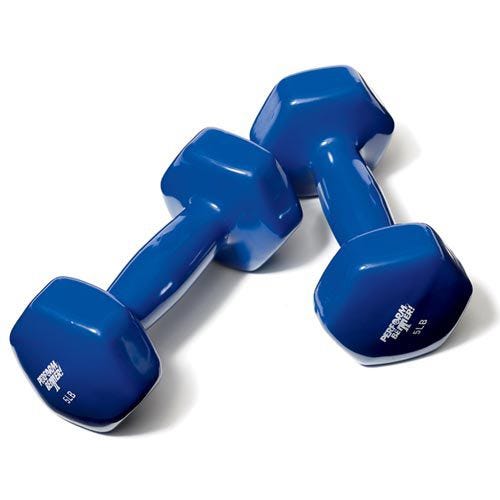 Lisa Shin
Starting at $12, amazon.com
Buy It
If you have only one training tool, make it a set of dumbbells. They're simple to use, versatile, and a great way to increase muscle mass. (Here's a great 15-minute dumbbell workout you can try.)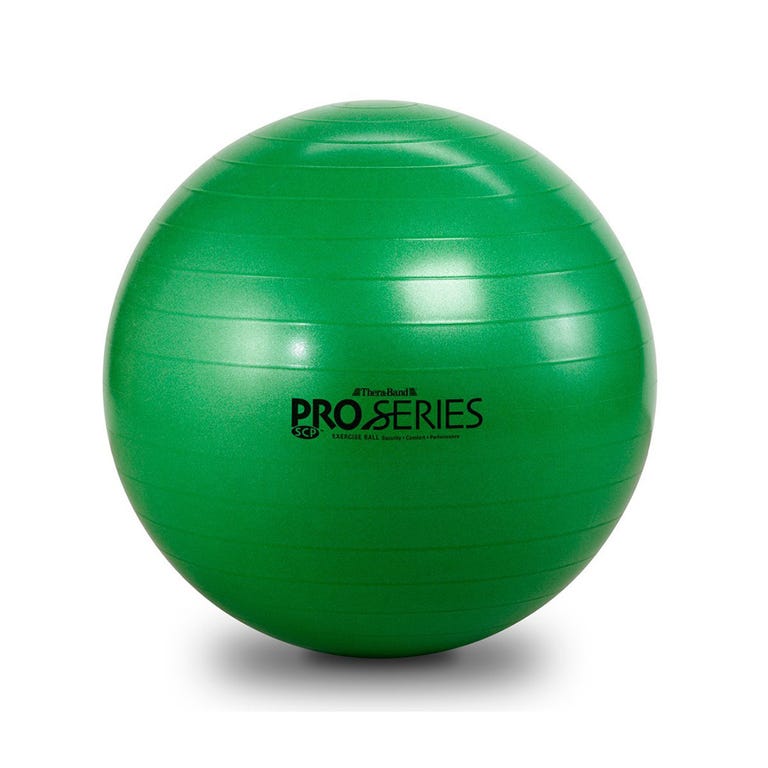 Courtesy of Retailers
$22, amazon.com
Buy It
If you thought exercise balls were just for toning abs, think again—they can actually be used to sculpt your entire body, making even easy exercises seem tough thanks to the balance challenge. And this ball is made from a material that's slow to deflate, so there won't be any surprises if you accidentally puncture it when stuffing it in your closet.
(Try this butt-toning stability ball workout, for starters.)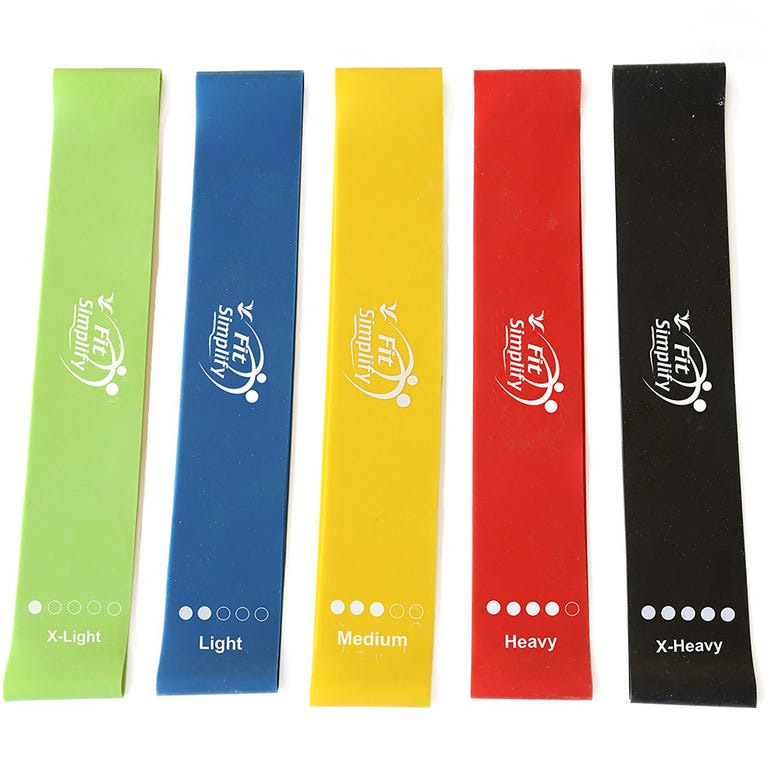 Courtesy of Retailers
$11, amazon.com
Buy It
Resistance bands are one of the best tools you can have in your workout arsenal. A set with varying resistance levels takes up almost zero room, but gives you plenty of options for strength training your entire body. (This total-body resistance band workout is a perfect example.)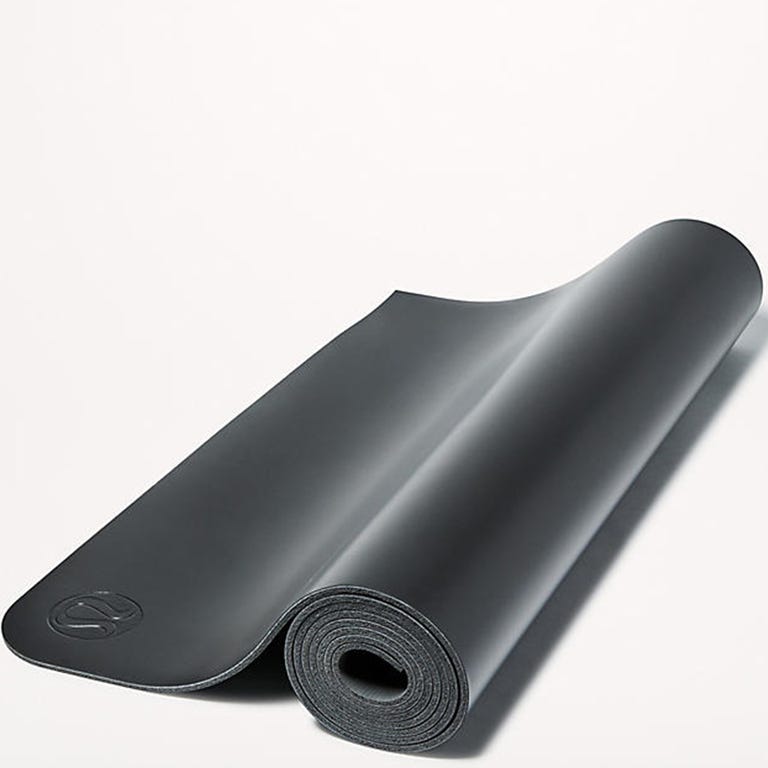 Courtesy of Retailers
$78, lululemon.com
Buy It
You can't have a home gym without a solid workout mat. This extra long and wide one was designed for tall yogis, but works for pretty much any workout routine, thanks to a moisture-absorbing polyurethane top layer that keeps hands and feet from slipping, five millimeters of thickness that make it soft but not spongy, and antimicrobial properties that prevent it from stinkin' up your house.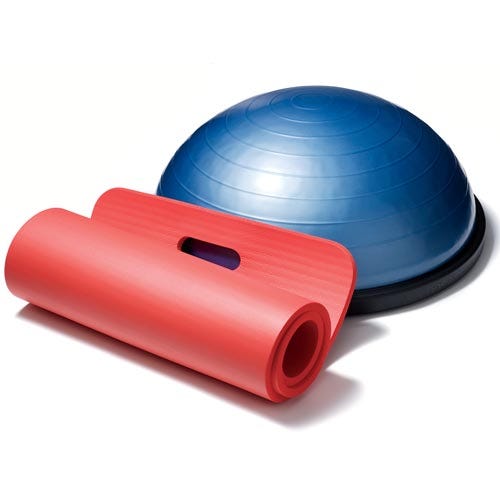 Lisa Shin
$100, amazon.com
Buy It
Short for "both sides utilized," the Bosu is essentially a Swiss ball that has been cut in half, with the flat side on the bottom. Use it to make pushups and hip raises more challenging, or stand on it to engage your lower body while doing upper-body exercises like biceps curls or overhead presses.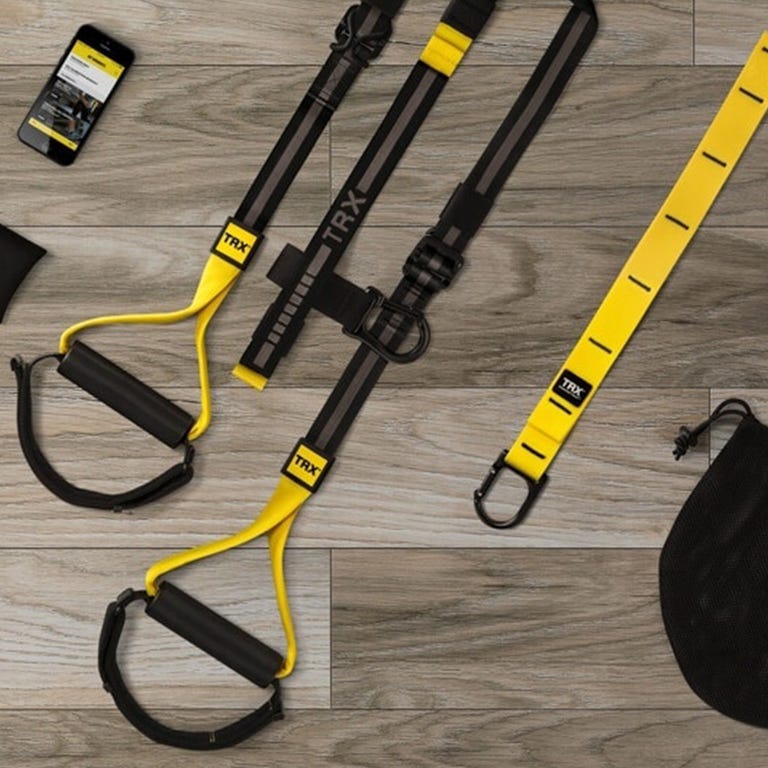 Courtesy of Retailers
$160; trxtraining.com
Buy It
All you need is a secure place to anchor these straps (say, a rafter, door frame, or even a tree), and you'll open up a world of multitasking exercise possibilities. The TRX system relies on gravity and your body weight to build muscular strength and endurance, in addition to helping improve your coordination, balance, mobility, flexibility, and core stability (like in this total-body TRX workout.) It's basically an all-in-one gym without any of the bulky, heavy equipment.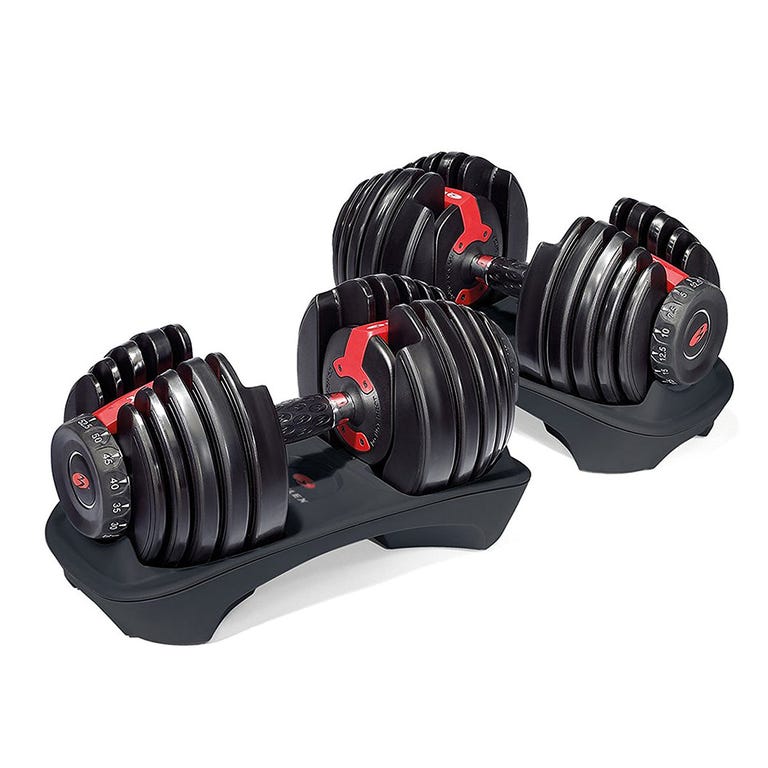 Courtesy of Retailers
$300, amazon.com
Buy It
If your workout game is a little more advanced, you probably need a variety of weight options—but who wants all those dumbbells cluttering up their space? This single pair combines 15 sets of weights into one, and adjusts from five to 52.5 pounds. How's that for minimalist efficiency?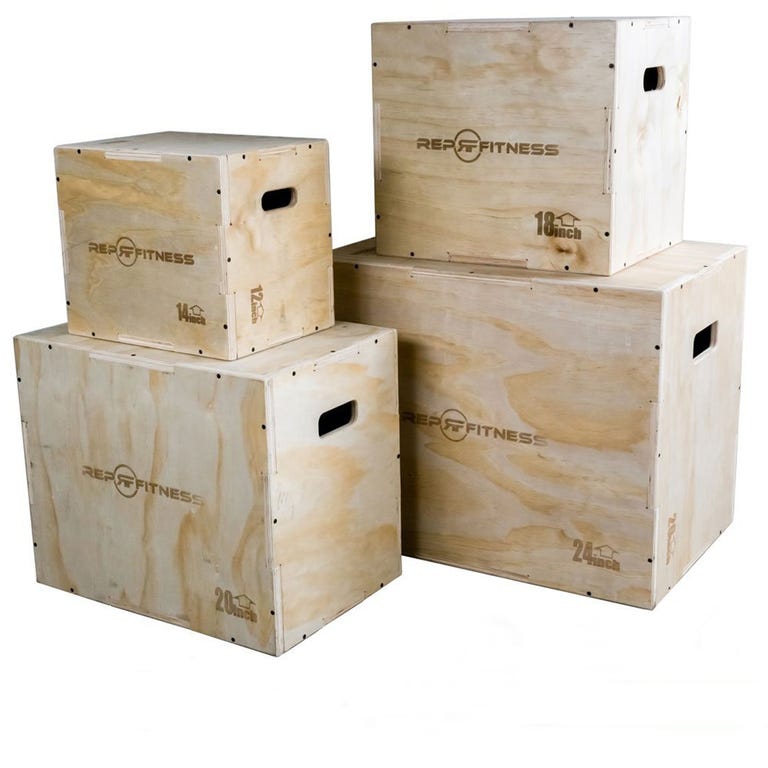 Courtesy of Retailers
$55, amazon.com
Buy It
A sturdy step or box can be great for taking regular exercises to the next level—think step-ups, elevated pushups, or Bulgarian split squats. But they're also great for incorporating heart rate-bumping plyometric moves into your routine.
With three sides of varying sizes, this box will help you take your step-overs and box jumps to new heights.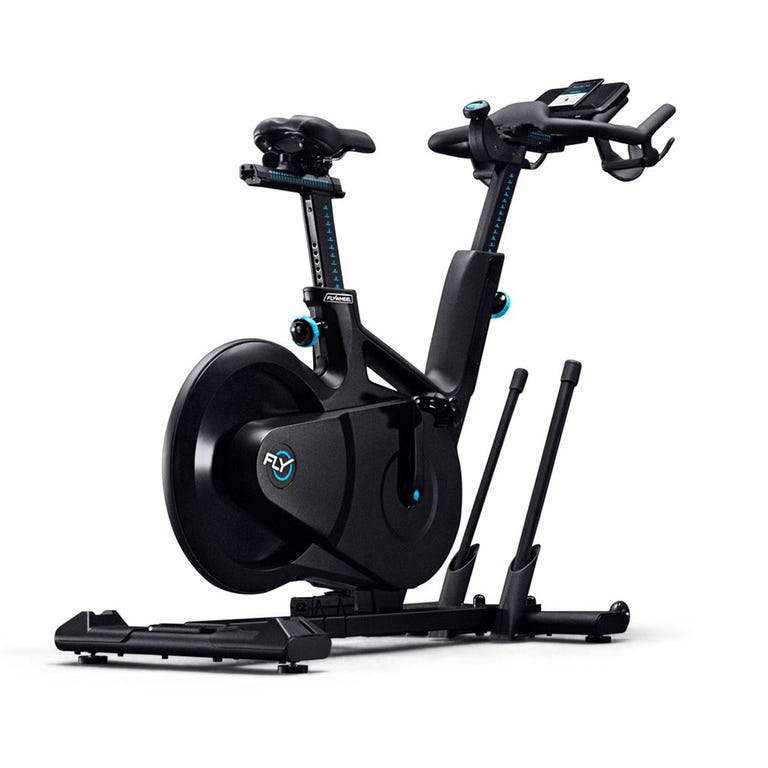 Courtesy of Retailers
$1699; flywheel.com
Buy It
Love cycling classes but don't want to leave your house? Flywheel recently launched Fly Anywhere with their custom bikes. These allow you to track your speed and resistance for a total power score you can see on the virtual TorqBoard.
Plus, with an additional $39 subscription, you'll have access to their live and on-demand workouts you can watch on your TV, iOS or Android, or on a built-in display screen. So basically, you'll get the in-studio experience right at home. It's pretty space-efficient, too; the bike sits on a mat about the size of a beach towel.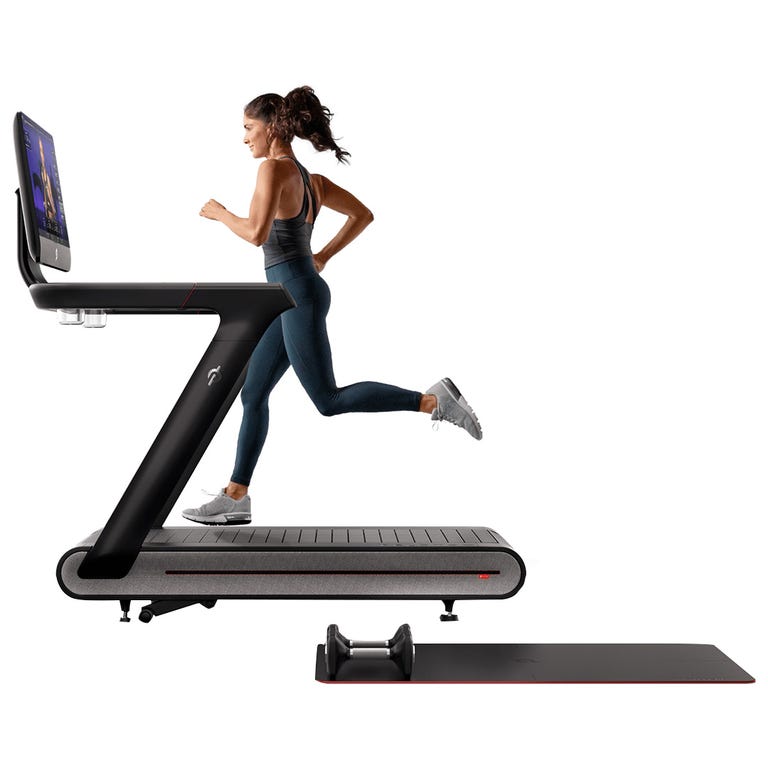 Courtesy of Retailers
$3,995, onepeloton.com
Buy It
Following the success of their at-home bikes, Peloton recently announced their newest product: a treadmill from which you can stream live and on-demand daily workouts (which include running and strength training) for a $39 monthly subscription fee.
The treadmill itself is super luxe and minimalist, and looks as close to a piece of art as fitness equipment can get. It'll start shipping to customers in the fall, but you can pre-order it online now.
(You can check out our review of the Peleton Tread here.)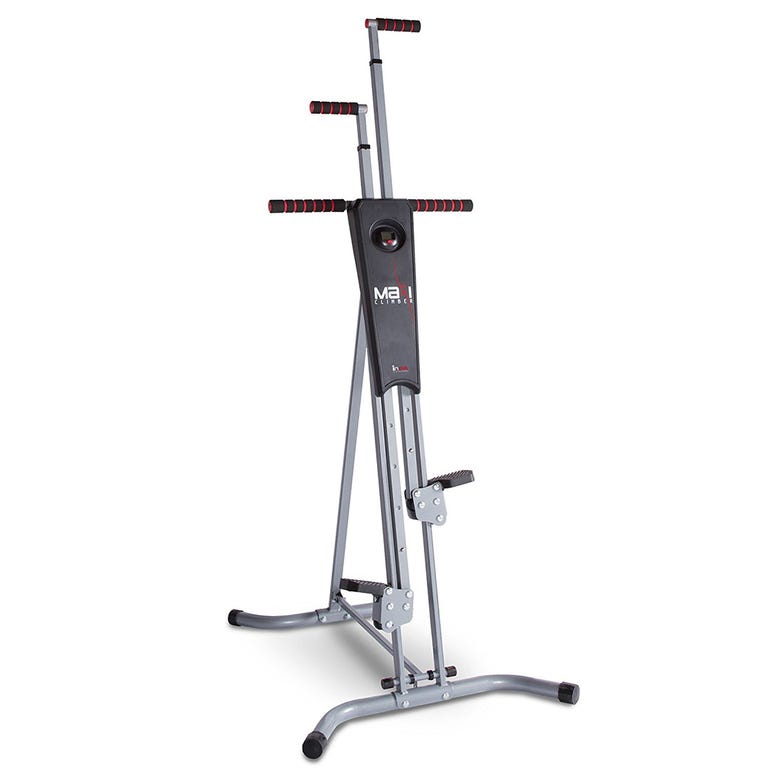 Courtesy of Retailers
$189; amazon.com
Buy It
Climbers like this are a two-in-one toning tool. Since they work on resistance, lower levels will give you more of a cardio workout, while higher levels turn it into strength training. Plus, this guy takes up way less space than your average stationary bike or treadmill—and is super lightweight and easy to move when you need to stash it out of sight.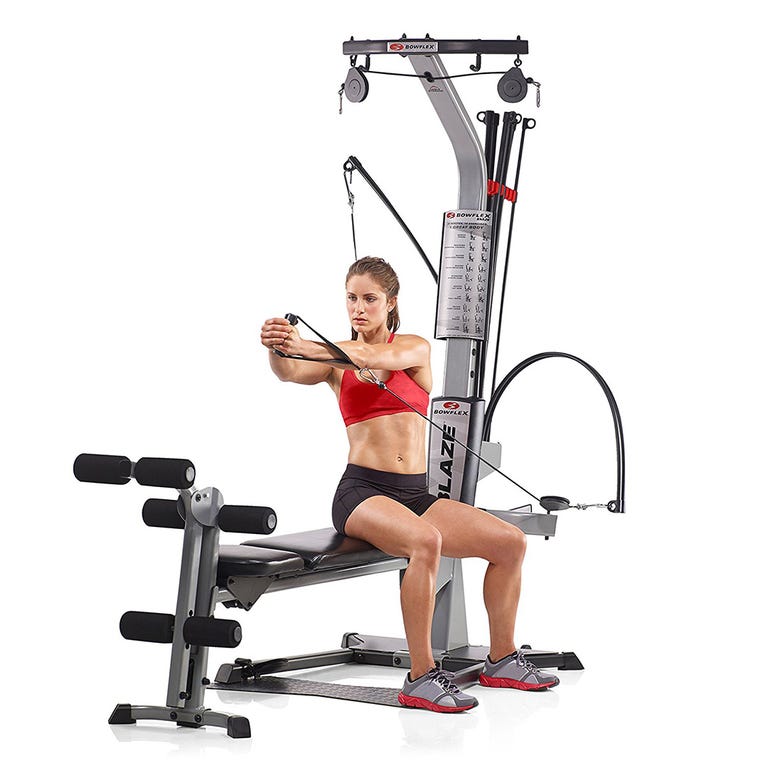 Courtesy of Retailers
$799, amazon.com
Buy It
Considering how little real estate this whole setup requires, you're getting a lot of bang for your buck. With multiple cable and pulley positions, you can perform over 60 exercises using 210 pounds of weight. The sliding seat even lets you turn it into a rower.
Home gym = complete.
Source: Read Full Article