Vascular risk factors, smoking in particular, are associated with worse outcomes following traumatic brain injury (TBI), new research shows.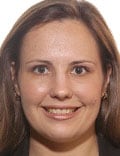 Dr Andrea Schneider
"The big takeaway here is that smoking appears to be a really big driver of adverse outcomes after TBI," study investigator Andrea Schneider, MD, PhD, assistant professor of neurology, University of Pennsylvania Division of Neurocritical Care, Philadelphia, told Medscape Medical News.
Targeting smoking and other vascular risk factors is good for overall health, but this may be even more important in the context of TBI, said Schneider.
The findings were presented at the annual meeting of the American Neurological Association, held virtually because of the pandemic.
TBI a Vascular Risk Factor?
TBI is a type of vascular risk factor due to injury to the blood vessels in the brain, said Schneider.
"We were interested in what is the effect of having that one vascular risk factor — the TBI itself — in combination with your pre-injury vascular risk factor profile and whether having more of these factors when you have a TBI is associated with worse outcomes."
The analysis included 2361 patients enrolled in the Transforming Research and Clinical Knowledge in TBI (TRACK-TBI) Study. Participants had a mean age of 42 years; 31% were women and 78% were White.
The majority of the cohort (about 80%) had mild TBI as determined by the Glasgow Coma Scale (GCS). In addition, most injuries were caused by a motor vehicle accident or a fall.
Researchers assessed four vascular risk factors, including hypertension, diabetes, hyperlipidemia and current smoking at baseline, using self-report questions and medical chart review. Smoking was the most common vascular risk factor followed by hypertension.
Schneider noted that the majority of patients, about 600, had smoking as a sole risk factor and those with two or more risk factors were much older, with an average age 60, vs other age groups.
Outcomes at 6 months included the Glasgow Outcome Scale-Extended (GOSE), which assesses overall functional recovery after an injury; the Rivermead Post-Concussion Symptoms Questionnaire (RPQ); the Satisfaction with Life Scale (SWLS); and the 18-item Brief Symptom Inventory (BSI-18), which assesses psychological distress.
Investigators found smoking was associated with negative outcomes on all four measures.
"By far and away, current smoking was associated most strongly with each outcome," said Schneider.
For smoking, the largest association at 6 months was for RPQ (odds ratio [OR] 3.25; 95% CI, 1.70 – 4.80)
Hyperlipidemia was not associated with 6-month outcomes, and hypertension and diabetes were associated with only some outcomes.
Researchers compared those with 0 risk factors to those with 1 risk factor and to those with 2 or more vascular risk factors and found a dose-response relationship for all outcomes except the GOSE. Here, compared with 0 risk factors, the OR for 1 risk factor was 1.36 but 1.23 for 2+ factors.
"We have been scratching our heads" about this "unexpected" finding, said Schneider.
It could be due to the "fairly crude" GOSE that has scores ranging from 1 to 8, she said.
Researchers examined propensity-weighted distribution of 2-week, 3-month and 6-month Glasgow scores by number of risk factors. They found at 2 weeks about 35% of study participants had good recovery regardless of vascular risk factor type.
"This changed over time as indicated by significant P value for interaction [0.009]," said Schneider, adding that by 6 months post-injury, more individuals with no vascular risk factors compared with those with vascular risk factors had achieved good recovery.
Muddy Waters?
Following the presentation, session co-moderator David Greer, MD, professor and chair, Department of Neurology, Boston University School of Medicine, Massachusetts asked whether vascular risk factors are so "muddy" with so many things possibly affecting them, that "it's difficult to harness all those things toward a coherent conclusion."
Schneider agreed that in observational studies, "you can't really get control of all the possible residual confounding."
"Heterogeneity with TBI is a problem within the field, and we will have to work to figure out ways to parse it out because that will help lead to success in clinical trials."
It is still unclear whether modifying vascular factors after TBI would change outcomes, Schneider said. Examining time-varying variables will be important "so we can parse out who was a smoker at the time of injury but maybe quit later, and people who did not have diabetes at the time of injury but may have gotten it later, and look at the impact of the timing of these vascular risk factors on injury recovery trajectories."
Commenting on the findings for Medscape Medical News, Conrad Weihl, MD, PhD, professor of neurology at Washington University, St. Louis, Missouri, said this "interesting" study suggests modifiable risk factors such as smoking and hyperlipidemia affect recovery in TBI.
"These data are similar to that seen in stroke recovery and further support an effect of one's overall health and lifestyle on neuronal recovery."
ANA 2021: 146th Annual Meeting of the American Neurological Association. Abstract 438. Presented October 18, 2021.
For more Medscape Neurology news, join us on Facebook and Twitter
Source: Read Full Article