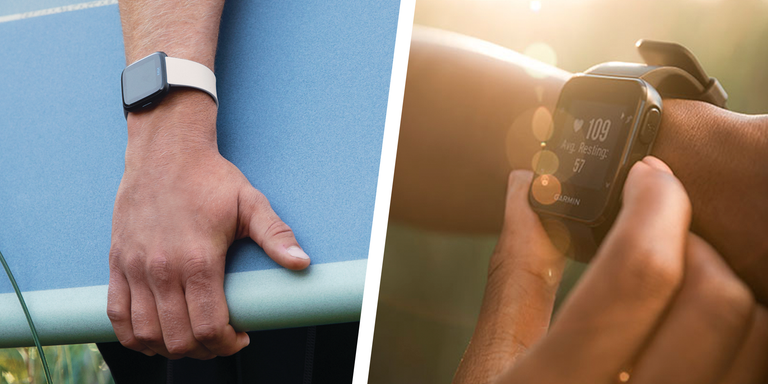 Working out in the 21st century means that you can depend on more than just the scale and the mirror to track your progress. Technology has given us access to more detailed data than ever before, directly on our wrists in the form of fitness trackers.
Whether you want a full-blown smart device for an immersive wearable experience or just a fitness-oriented timepiece to record your laps and splits, we've rounded up some of the best watches for every training regimen. The gadgets will track your workouts, help you regulate your sleep, give you active training tips — and look damn good on your arm all the while.
Fitbit Versa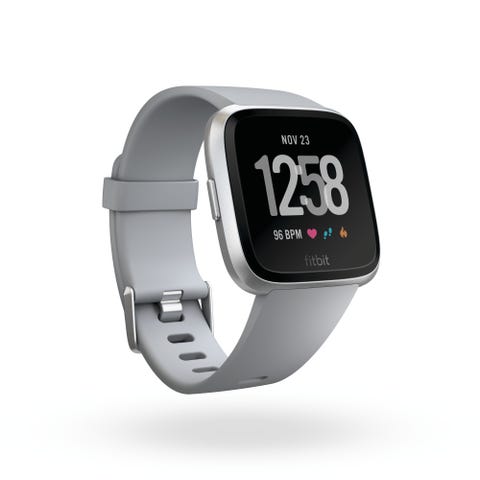 Fitbit
Fitbit's second stab at a smartwatch, the Versa, is one of the best we've tested this year. The Versa combines a slick design, powerful battery, and an attractive price point ($200) with all of the activity, heart rate, and sleep tracking functionality the company has used to become one of the biggest names in wearables.
Key Features: all day tracking, sleep tracking, multi-sport mode, water resistance, connected GPS, heart rate tracking, on-screen workouts, smartphone alerts
Buy Now
Suunto 3 Fitness Smartwatch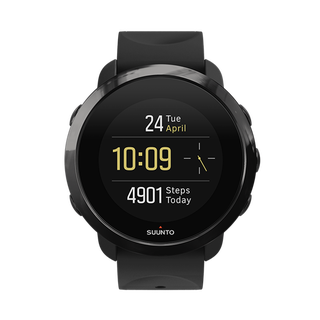 Suunto
Suunto, which is best known for high-level orienteering equipment, took a stab at a smartwatch for more general exercisers and the result, the 3 Fitness, is a no-frills tracker that offers something for just about everyone, with ability to track dozens of activities and guided training plans. One of the biggest reasons the 3 Fitness works well is the newly-overhauled Suunto smartphone app, which gives more detailed feedback about your workouts than just about any other watch-style tracker.
Key Features: color screen, heart rate tracking, water resistance, connected GPS, adaptive training guidance
Buy Now
G-Shock GBA800 Training Timer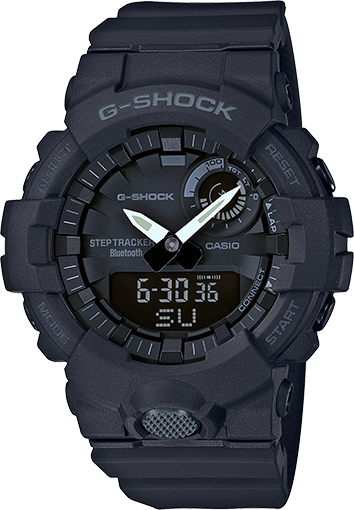 Casio
If the reams of data available on a smartwatch screen are too much for you, you'll love the simplicity offered by this chunky analog watch (there's a digital clock, too). The durable, large face gives you the time, the ability to set timers, and your step count — and that's about it. For more smart features, you'll have to check out the connected smartphone app.
Key Features: shock resistant, 200m water resistant, 3-axis accelerometer, countdown timer
Buy Now
Apple Watch Series 3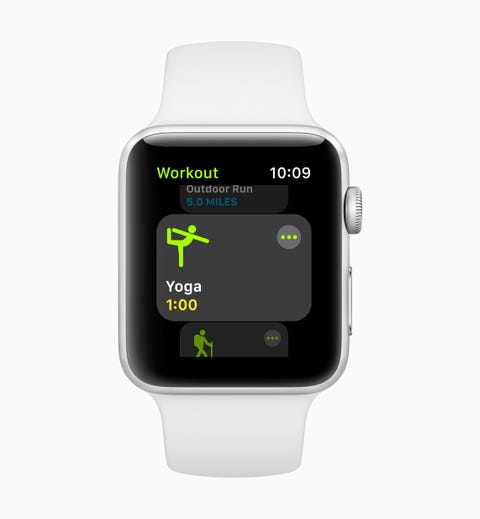 Apple
Apple finally fulfilled our comic book dreams and made a smartwatch you can use to make calls — but that's only if you pony up extra money for the cellular data plan. Even without that feature, the Apple Watch Series 3 is designed to be a fitness powerhouse. Track your workouts, heart rate, calories burned, and fill out those addictive activity rings. Once the newest watchOS update drops next fall, there will be even more reason to get one for your workouts.
Key Features: GPS, water resistance 50 meters, smartphone alerts, heart rate tracking, music storage, optional cellular capabilities
Buy Now
TomTom Spark 3 Cardio+ Music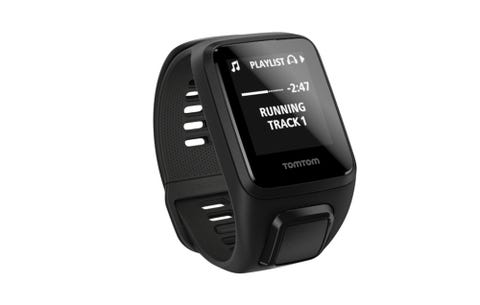 TomTom
Love listening to music when you run or cycle, but hate having to carry your phone along with you? This watch eliminates that issue as it can store up to 500 songs directly on the device. As you'd expect from TomTom, GPS activity tracking allows you to map out running and cycling routes with precision.
Key Features: activity tracking, GPS, built-in heart rate monitor, music storage, multisport mode
Buy Now
Polar M430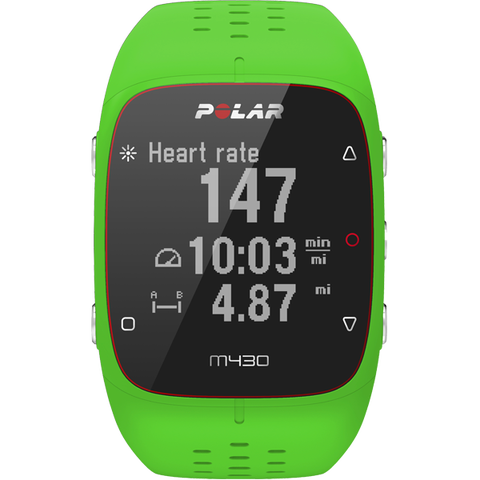 Polar
Personalized coaching is the Polar M430's specialty. Sync this wristwatch with Polar Flow (the company's free app or online web service) to use the running program feature, which allows you to choose whether you're training for a 5K, 10K, half-marathon, or marathon. You'll get a customized training plan on your wrist, tailored to your level and goal. The built-in GPS and heart rate sensor allow you to analyze your metrics closely, and it tracks sleep, too.
Key Features: wrist-based heart rate, all-day tracking, GPS, smart coaching, running program, sleep tracking, water resistant
Buy Now
Garmin Forerunner 35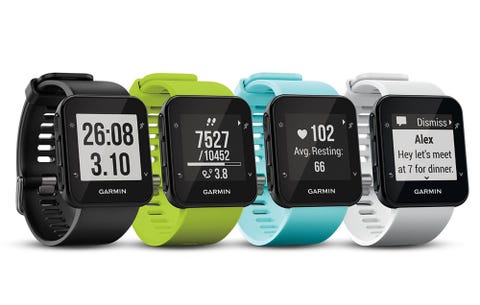 Garmin
This basic GPS-capable watch is ideal for runners. The tracker offers standard smartwatch features like smart notifications and a connected app, but the real attraction is the ability to track workouts without needing to bring a phone along for the run. Garmin Connect, the company's online fitness community, can give wearers an opportunity to socialize and compete with other users, too.
Key Features: GPS, all-day tracking, built-in heart rate monitor, smart notifications, 9-day battery life
Buy Now
Timex Ironman GPS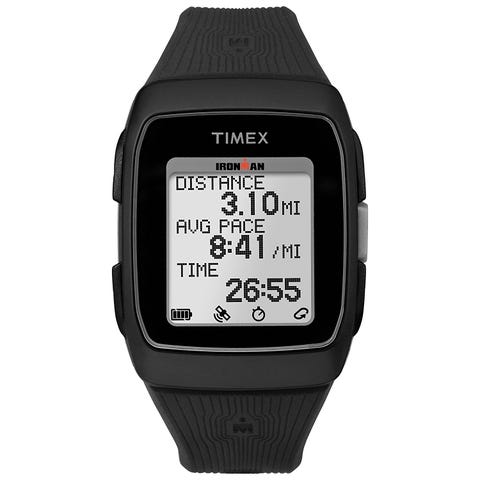 Amazon
If you're training for a race, the interval timer on this watch will help you work on your speed — and that's all. You won't get distracted by smart notifications or apps with this simple digital tool. The large display makes it easy to check on your lap or split times mid-run, and it provides hydration and nutrition alerts as well.
Key Features: touch-screen enabled, interval training timer, hydration alerts
Buy Now
Source: Read Full Article