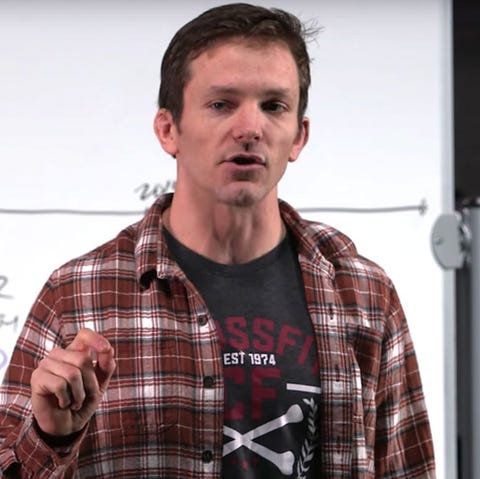 After a CrossFit gym in Indianapolis, Indiana, cancelled a Pride Month workout, Orthodox Christian pastor and Huntsville, Alabama-based CrossFit trainer Russell Berger published a short-lived tweet on Wednesday, June 6, expressing his personal belief that celebrating pride is a sin:
Looks like @CrossFit's @BergerRussell deleted that tweet so here's a screenshot icymi pic.twitter.com/1I2sya7ACO
Berger sent two additional tweets to explain himself but eventually deleted all three, according to RTV6 News. His sentiments put his parent company over the edge: He was first put on administrative leave, according to a CrossFit tweet sent around 5pm on Wednesday, and ultimately fired, according to a tweet posted less than three hours later by his former employer:
The statements made today by Russell Berger do not reflect the views of CrossFit Inc. For this reason, his employment with CrossFit has been terminated.
As of Thursday, Berger continues to identify himself as "Chief Knowledge Officer of @CrossFit" on Twitter.
"He needs to take a big dose of 'shut the fuck up' and hide out for awhile. It's sad," CrossFit CEO Greg Glassman told BuzzFeed News in an interview about Berger's social media behavior.
"I am crazy proud of the gay community in CrossFit."
-@CrossFitCEO
Berger also spoke with BuzzFeed News: "It became way too difficult to discern between me making statements of personal opinion, and me speaking as a voice for CrossFit," he said, admitting that, as a spokesperson for CrossFit, he should have anticipated the fallout that followed his tweeting. "I should have realized that, and I didn't until it was too late," he said. "I do regret it."
But Berger still believes celebrating "pride" is a sin: "My actual point I was making, I still affirm it," he said during the interview.
Meanwhile, the Indianapolis CrossFit Gym has closed for undisclosed reasons.
Follow Elizabeth on Instagram and Twitter.
Source: Read Full Article